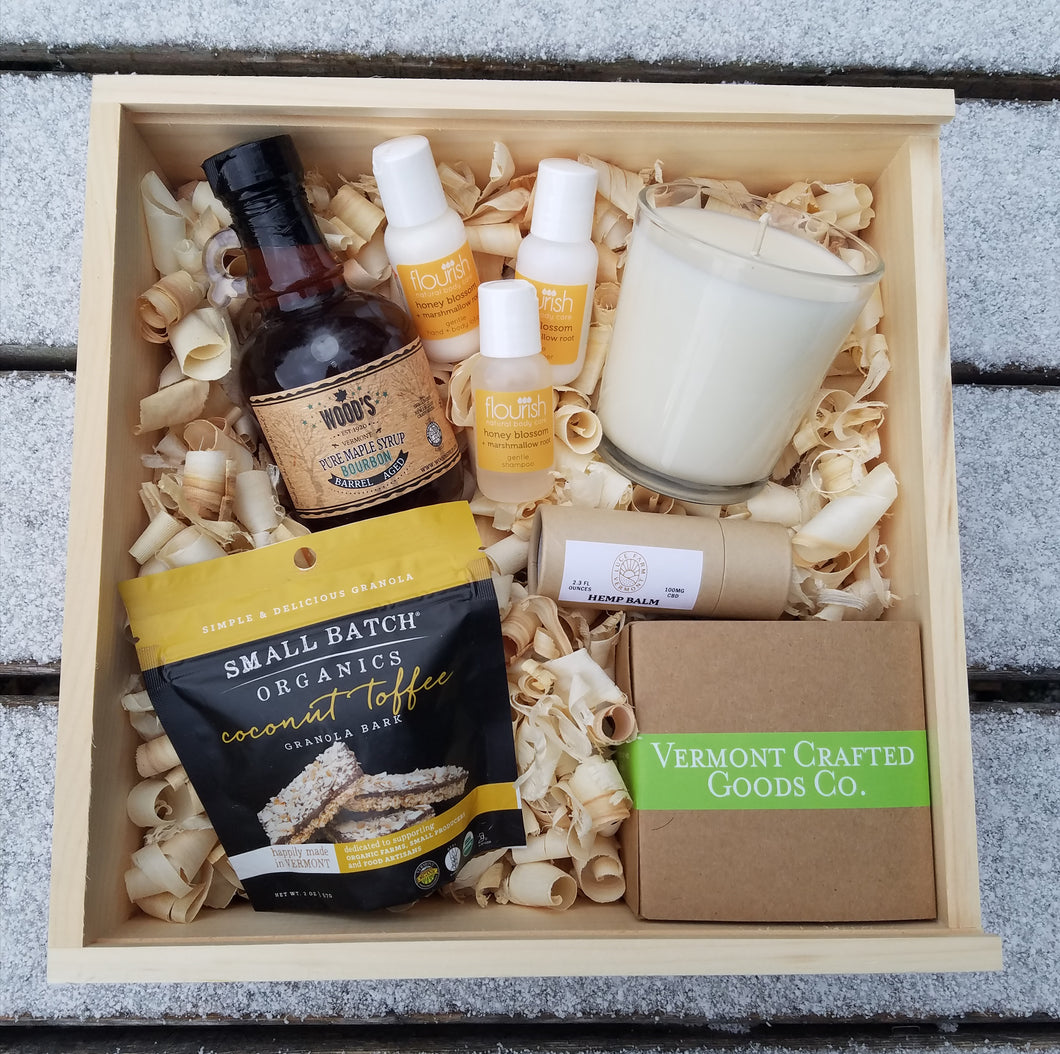 Winter Box
Regular price $100.00 Sale
Just in time for the holidays, we've curated a selection of indulgent and pampering products, with great value as our gift to you!
To begin, the box includes an 8 oz. bottle of Bourbon-aged maple syrup produced in Randolph by the kind Wood's family. Deliciously paired with coffee, ice cream, in a cocktail or on good old pancakes and waffles, this gourmet syrup will definitely elevate whatever you choose to put it on. 
Your hair, skin and nose will thank you for trying these luxurious products from Flourish Body Care. Made with pure, wholesome ingredients infused with Vermont-grown wildflower essences, this mini set is not usually available and provides a great opportunity to sample this high end line.
We then persuaded the good folks at Luce Farm to custom pour this balm stick and we love it. Infused with CBD extracted from their own Vermont-farmed organic hemp, this balm can be used to deeply moisturize dry skin, protect against winter chafing, and alleviate sore muscles. We even use it on our dogs' paws to protect against winter salt and ice. CBD does not have any pyschotropic effect, yet has been found to have incredible anti-inflammatory properties. The high quality cacao butter means it also smells delicious!
For an edible treat, we've included a bag of Small Batch Organics Coconut Toffee granola bark. It's the perfect size to stash in your car or pack for a nourishing and indulgent snack.
Last, we've included one of our 100% soy wax candles, handpoured right here in Vermont. Our exclusive Winter scent is a blend of pure essential oils (and no fragrance oils!) that evoke the smells of a walk through the Vermont woods on a crisp snowy day.