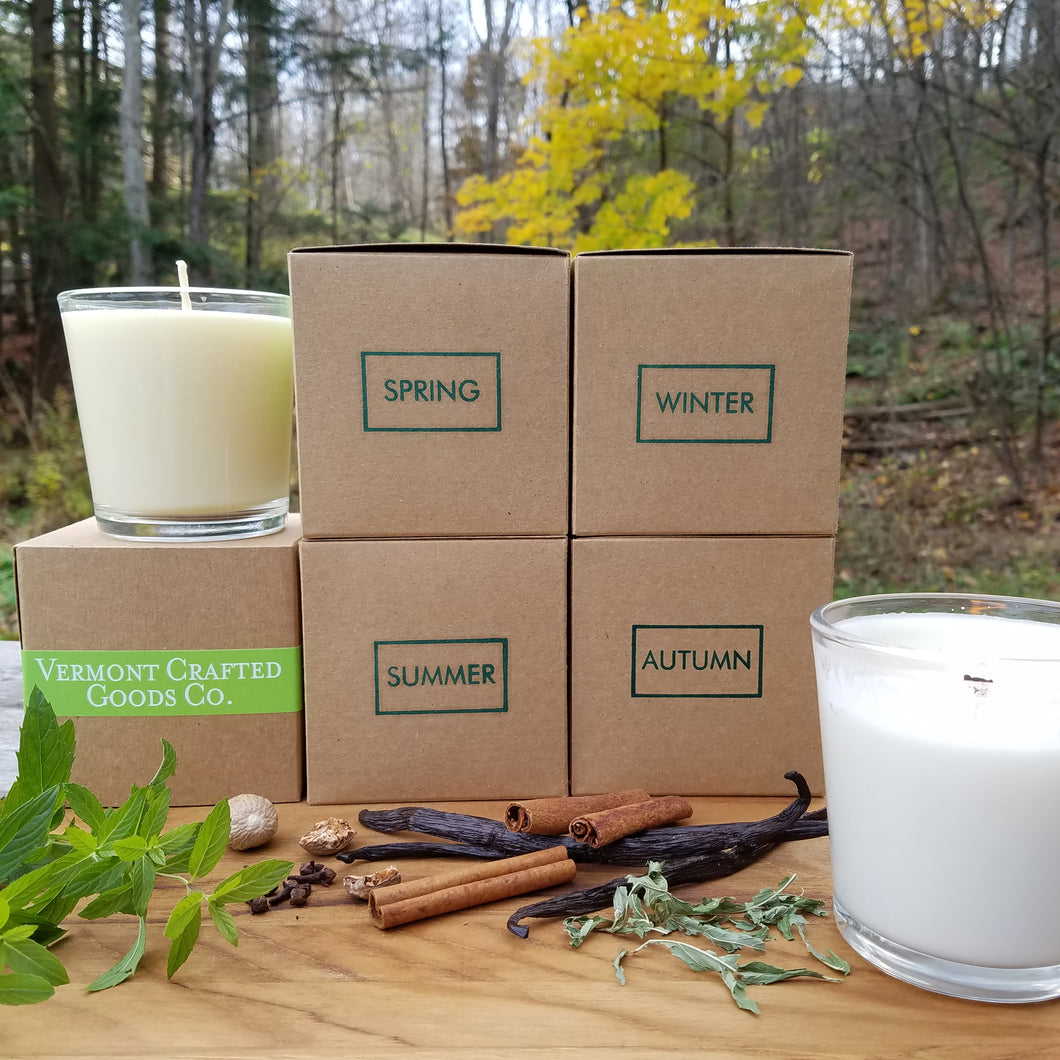 4 Seasons of Candles
Regular price $110.00 Sale
We decided to launch this gift set of our four seasonal scents in time for holiday gifting.
While we originally set out to sell only curated gift boxes, we received such positive feedback about our seasonal candles that we added them as our first stand-alone item.
What makes them so special?
To begin with, our candles are made with 100% American farmed soy wax and 100% cotton wicks, which means they burn cleanly (no soot or carcinogens to breathe) and longer than their paraffin counterparts.  
But perhaps the most popular aspect is their scent. For each of our seasonal candles we worked with the apothecary at Whisper Hill to create a versatile scent to evoke each season without overpowering your home or your senses. Each is crafted with 100% pure essential oils (because 'fragrance oils' are NOT natural). Our candles are also hand poured in small batches, so the balance of top, middle and low notes remains intact. While the essential oil blend for each seasonal candle is proprietary, we  characterize the scents as follows:
SUMMER: Fresh, clean scent with a middle note of lemon verbena. Versatile scent functions well both inside and outdoors.
AUTUMN: Warming spices of clove, nutmeg, and cassia evoke cozy memories of fall.
WINTER: Woodsy, fresh scent with notes of pine and vanilla.
SPRING: Bright, floral scent with notes of mint and jasmine. 
An excellent host/hostess gift, the quality of these candles is on par with, and exceeds, many high end candles that sell for much more. And when the candle is finished, you can repurpose the container as a cocktail tumbler or vase!
Each candle is 10 oz. with a burn time of 50 hrs.